TRANSMISSIONS
The residents of The Watch in 2019 are:
Toria Banks, Jan Peters/Marie-Catherine Theiler, Cristina Ramos (Open Call), Adam Knight (Open Call), Sönke Hallmann, Anna Bromley, Julie Sas, Anne Gathmann/Anna-Lena Wenzel/Kirstin Burckhardt (Open Call).
TORIA BANKS
The Agony of New Music
In 1955 an American musicologist called Henry Pleasants published 'The Agony of New Music'. The book argued that Western classical music was a dead tradition, an exhausted seam, and that modern 'serious music' was merely 'the sound of desperate speculators' picking through the slagpile'. It was a cause celebre.
Pleasants was also a CIA agent. According to the 1964 bestseller 'The Invisible Government', he spent several months after the war living with, and 'assessing' a man called Reinhard Gehlen. Gehlen had been a senior Nazi, head of the Wehrmacht's Foreign Armies East. He was the Third Reich's most senior spy gathering information on the Eastern Front, including from torture. Later he would be the first head of the BND, the intelligence service of West Germany. The nature of Pleasants' assessment of Gehlen is unclear.
During my residency, I started work on a new project, beginning with Henry Pleasants: at the same time as he was filing his secretive assessment of Gehlen, he was publishing his criticism of Western high culture to the world. How does it relate to his covert work? I hope to use his story to explore questions that bother me to do with cultural tradition and radical change. Who does the European classical music tradition belong to, and should we want to own it? What could we gain from the end of Western Civilisation? My next step will be to interview a handful of musicians and musicologists about their responses to Pleasants' work.

Toria Bank
is a London-based artist working in theatre and opera. As a writer, her plays have so far shared a concern with true stories, and their telling in the present moment, and have combined documentary research and forms, with an interest in the performer-audience relationship, and live music. 'The People's Choice' (2010); 'We Have Won the Land' (2012); and 'Deeds not Words', (2018) have all toured in Scotland. She is also a dramaturg and director who has worked for companies including Told by an Idiot, Shakespeare's Globe and the Royal Opera House. She is one of three co-founders of HERA, an intersectional feminist opera company, making and touring music theatre by diverse women artists. Their first show, 'Generation', a piece of classical gig theatre about mother-figures, ageing and legacy will premiere in autumn 2019. Toria is Resident Director at Trinity Laban Conservatoire. She lives with neurological disability.
www.toriabanks.com
/
www.wearehera.co.uk
MARIE-CATHERINE THEILER/JAN PETERS

Der Turm ist mit Fenstern versehen, vier Stück auf allen vier Seiten, jedes 80 auf 60 cm groß, alle auf einer Höhe von 130 cm angebracht. Dadurch ist stehend ein Rundumblick möglich, wobei der wachende Beobachter von aussen quasi unsichtbar bleibt.
Durch einen kleinen Eingriff in die Beobachtungs/Überwachungsarchitektur werden wir den Boden um 70 bis 100 cm nach oben verlegen, so dass aus dem Wachturm der Vergangenheit ein in zeitgenössischen Vorstellungen attraktiver (Wohn-)Ort mit bodentiefen Fenstern entsteht, mit dem Nebeneffekt, dass die Aktivitäten im Turm wie auf einer Bühne von Aussen gut sichtbar werden.
Auf dieser Bühne geht unsere Aktivität in den drei Wochen im Turm sehr direkt vom diesjährigen Thema "Transmission" und von der Tatsache aus, dass der letzte Tag unserer Residenz auf die Europawahl fällt: Wir schreiben Briefe an 28 Freunde aus den 28 EU-Mitgliedstaaten.

Marie-Catherine Theiler und Jan Peters sind Filmemacher, die seit mehr als 10 Jahren auch gemeinsam Projekte realisieren. Neben Filmen (ZWEI ODDER DREI VERSUCHE; EINE IDEE UMZUSETZEN, 2008 / TIME'S UP, 2009) auch Hörspiele fürs Radio (ZEITLOCHBOHRVERSUCHE, Bayerischer Rundfunk, 2011), Performances fürs Theater (AUSFLUG NACH KOHLHASENBRÜCK, Maxim Gorki Theater) und zuletzt den Lecture-Performance-Film KOLLISIONEN (Volksbühne, DESY, Bundeskongress kommnale Kinos, 2017/18), der anlässlich eines Stipendiums am europäischen Kernforschungszentrum CERN entstanden ist.
CRISTINA RAMOS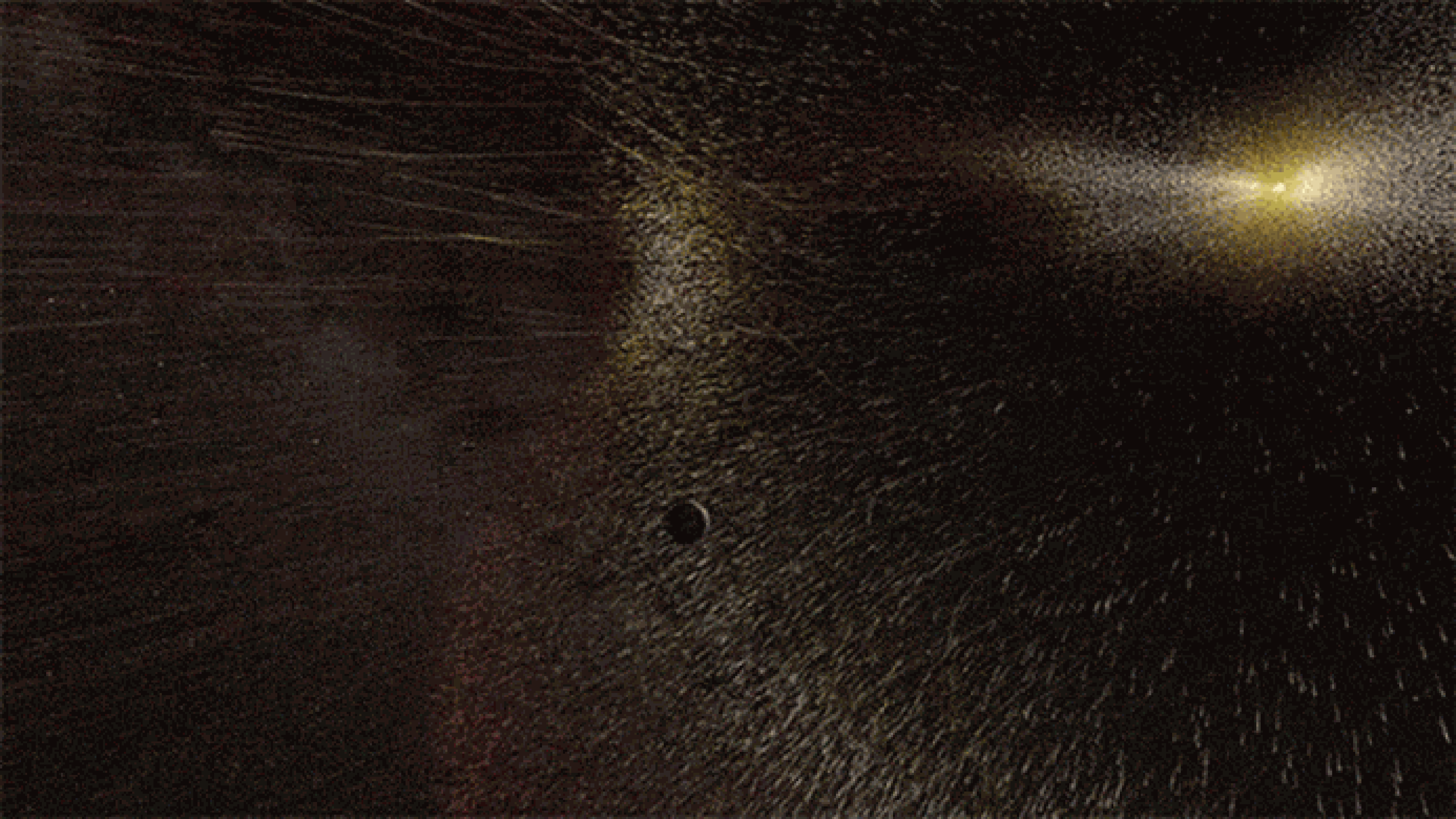 rocks radio radar long wave radiation
rocks radar long wave radiation is a body of research and a series of events inspired by the work of Elizabeth Alexander, a British geologist and physicistwho was pioneer in the field of radio astronomy.
Exploring certain frequencies at arranged times, Alexander was first in interpreting anomalousradiation as a signal caused by the sun, thus being able to record its sound. This discovery gave astronomers a new way of looking at the universe. Astronomy, like contemporary art, is a highly speculative terrain in as much as celestial bodies are measured by intangible features such as the shadow they project into other bodies or their sound. At the same time, it is quite relevant to reflect upon the way that astronomy make us feel citizens of the universe, creating a sense of togetherness across cultural, economical or political boundaries.
Thinking of the watchtower as a space that demands things to be seen, rocks radar long wave radiation considers the limited forms of human imagination and asks how an invisible image can be seen. Ifit is through sight that we come to recognise ourselves and the world around us, what happens if we exchange visuality for sound? Through hosting conversations at the watchtower and inviting artists to contribute to the project, rocks radar long wave radiation reflects upon waysof curating sound, the relation between visuality, sound and imagination, as well as pondering the role of radio astronomy and the poetics of sound from outer space.
Cristina Ramos is a curator and writer from Spain with a background in fine art restoration, philosophy and contemporary art. Her current practice revolves around notions of material change in oceanic regions, symbioses between humans and other entities – be they nature, other animals, planets,machines or systems -, and our modes of sensuous perception. Her projects often engage with literature such as Tender Buttons, Salón (Madrid, 2017); Figures of speech #4. UEP, Addaya Centre d'Art Contemporani (Majorca, 2016); out-of-doors sites including Companion Planting, Goldsmiths University of London's allotment (London, 2017); Interlude for a Summer Night, Art Night 2017 (London, 2017) and responsivecuration as in Liquid Love, Enclave (London, 2017) and Canning Time, Art Licks Weekend (London, 2015). She frequently works on a collaborative basis to develop different curatorial methodologies and strengthen dialogue and exchange. This interest lead her to be one half of The Livingroom, - a nomadic space that brings togethersonic, performative and visual practices in extraordinary places in order to provide different interactions between works and audience -, and of ramoslubbert, - a curatorial platform that investigates site-specific artistic practices to produce exhibitions, events and residencies including Arnis Residency, in the smallest town of Germany. Ramos has engaged in curatorial residencies in Indonesia, Athens, Majorca and Porto, and holds a MA in Curating from the Whitechapel Gallery postgraduate program in London.
www.cristinaramos.org
ADAM KNIGHT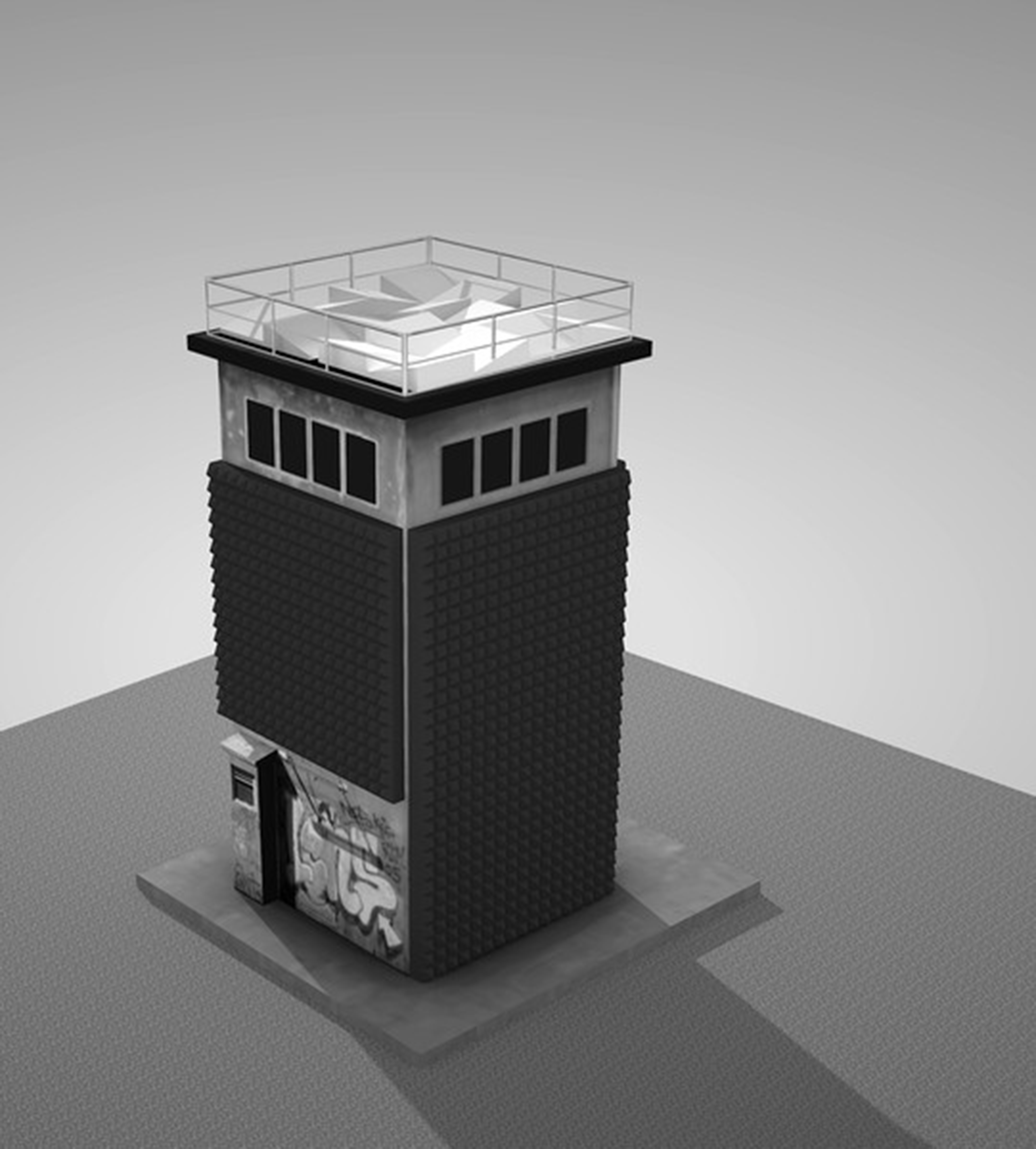 The [---] Tower
The watchtower will be an object of study, an enigmatic subject to be analysed, probed, questioned and communed with. The proposed project will work firstly with the watchtower's historical and geographical visibility as monument and landmark. And secondly its scopic legacy as a tool of surveillance. In response to an agonstic relationship from looking outwards and inwards, I propose hiding the watchtower to think about modes of disappearance and withdrawal. In 1987 London-based artist John Smith made the work 'The Black Tower'; a film addressing the appearance of a mysterious black tower that menacingly stalks the artist across east London. Its process of becoming is facilitated by Smith's narration encompassing everyday voices that witness the structure's emergence. The Tower never fully appears in the film, glimpsed, partial and manifesting as hearsay. Reading the work forty years later'The Black Tower' becomes an omen and marker for redevelopment that wields equal power in Berlin and London. My writing will begin working with the watchtower by adopting approaches as identified in 'The Black Tower'. I will explore the voice as a witness (in this instance; the Tower's) in how the object operates as a transmitter. My contribution to the thematic topic of transmission will be the development of an audio work in the tradition of GDR 'O-Ton' Hörspiele: a broadcasting format that is structured and assembled from collaged sonic material such as voice, field recordings and effects.
Image: Architectural Model of The Tower rendered in acoustic foam
Model © Stephanie Lange


Adam Knight (b.1982) is an artist and lecturer based in London working across text, sound and video. He studied at the Royal College of Art and completed his MA in 2007 and MPhil in 2019. Taking apart the formats of artistic production, Adam Knight addresses complexities inherent in art-making. He is interested in pursuing and interrogating moments of a-synchronicity, doubt and self-critique.Recent projects and exhibitions include 'MOSTYN 21' (selected by Jennifer Higgie); Das Esszimmer goes ID:I Galleri Stockholm; 'Stadtbild HRO', Kunsthalle Rostock and 'TRACKINGSHOT.1 - Desert Sessions', Focal Point Gallery. An essay on Los Angeles was included in 'WRITING CITIES: London to Los Angeles' edited by Norman Klein and Amanda Beech as part of the Journal of Writing in Creative Practice published by Intellect Books in 2018. He is recent recipient of a-n Artist Bursary and will travel to Buenos Aires to research and investigate overlapping fictions and histories through a combination of text, field recordings, broadcasts, dialogue, live-works and transmissions.
www.adamknight.co.uk
SÖNKE HALLMANN

Transversales Erinnern
Einsatz dieser Recherche ist ein wichtiges Dokument der Nachwendezeit. Im September 1992 veröffentlichten die Professorin Gloria Joseph und die Dichterin, Aktivistin und Feministin Audre Lorde einen offenen Brief, in dem sie ihrer Angst vor einem Erstarken rassistischer und fremdenfeindlicher Positionen und Bewegungen Ausdruck verliehen. Diesen Brief aufmerksam in Beziehung zur heutigen politischen Situation zu lesen, erfordert, gerade auch die fremdenfeindliche Rhetorik westdeutscher Medien und des politischen Diskurses der späten 80er Jahre in den Blick zu nehmen, die entscheidend die massive Einschränkung des Rechts auf Asyl und die Verschärfung der Asylgesetzgebung in den 90ern vorbereiteten. Während meiner Arbeitszeit im Grenzwachturm lese ich Auszüge einiger Debatten aus dem Deutschen Bundestag der 80er Jahre und insbesondere von 1993 und andere Quellen. Hierzu führe ich Gespräche mit heutigen Aktivist*innen auf der Suche nach Resonanzen zu gegenwärtigen Diskursen und Debatten.



Sönke Hallmann, Kulturarbeiter und Theoretiker, arbeitet im selbstverwalteten Atelierhaus Flutgraben e.V. und ist in politischen Initiativen aktiv. Seit 2006 arbeitet er zu kollektiven Praxen des Lesens und Schreibens (Department of Reading) und befasst sich kritisch mit Institutionalität (Faculy of Invisibility, Inverse Institution, Critical Friends). Er ist Vater eines Kindes.
ANNA BROMLEY
My current artistic research revolves around the presenting and speech practices of free radios between France, Italy and the FRG from 1976 until 1992. It deals with tactics of direct speech that the psycho-analyst Felix Guattari (1992) considered as poetico-delirious interventions into the language of media.While research on radio cultures dominantly approaches radio broadcasting through the lenses of Arnheim's, Adorno's and Brecht's writings, I attempt to offer an alternative contextualization by considering the queer and migrant pessimism towards radio cultures as described by Gloria Anzaldúa in her book Borderlands (1984). Undefined non-representative borderlands in the not-yet/no longer are exactly the territories in which multilingual free radio assemblages since the 1970's unfolded in/with minority languages, sociolects, and revolting ways of speaking employing a "direct language of desire in collective assemblages" (Guattari).

I would like to acknowledge the kind support of the Academy of Media Arts Cologne (KHM) that allows me to intensify my research in 2020.


Anna Bromley develops exhibitions, installations, performances, texts, radio conversations and plays. Her interest is aimed primarily at breaches and interruptions in/of representative ways of speaking and talking. Her work has been presented at: documenta14 Kassel, Musrara Mix Jerusalem, depot Wien, Schauspiel Dortmund, nGbK Berlin, Fondazione Arthur Cravan Milan, City Museum Ljubljana, and Kampnagel Hamburg. Since 2010 she also conceives and produces curatorial formats–mainly in non-hierarchic collectives and collaborations–dealing with queer temporalities, self-ironic jokes, Central European ways of disziplining body and psyche, and ways to circumvent dominant techniques of the self. The anthologies Glossar inflationärer Begriffe (Glossary of inflationary terms, Berlin 2013, Mexiko City 2014) and Jokebook (Berlin 2015) arised from her curatorial research groups. As the 2018-fellow of the nGbK Berlin, she organized collective radio experiments exploring the radical democratic curatorial practice of the nGbK. Bromley`s radio practice is rooted in the free radio reboot.fm in Berlin.
JULIE SAS

NTHNTH (working title)
From the history of political and material surveillance to one of telecommunication applied to financial market strategies and their production of identity algorithms, the tower crystallizes as much as metaphorises the articulation between position and power. High view point, high speed, high frequencies, high performance, as opposed to low capacities, also meet the dialectic between center and peripheries in matters of empowerment and control. In a critic of these straight dynamics, the project NTHNTH tries to touchupon the specific context of the watchtower in a search for polysemy and eccentricity. In the forms of readings, projections and experimental forms of mediation, NTHNTH aims to produce a semantic set-up of works linked to the possibility of constructing complex, ambiguous and non-hegemonic forms of identities and communications in times of crisis.This project is part of an on-going research - « Silent Red Alert » - that intends to analyze some modes of existence and appearance that have the particularity of problematizing the subjectification processes that derive from our relationship to apparatus. Anonymity, invisibility, disappearance, avoidance, secrecy or silence can then be seen as possible ethics and positions, ways of resistance to a contemporary paradigm that claims to mergebeing and appearing on the one hand, value and visibility on the other.

In her practice, Julie Sas combines installations, writing, performance and collaborative projects, in which she organizes spaces and situations around plays on meanings, norms and identities that demonstrate a tension with certain linguistic or social data. Sas' recent live installations present bodies involved in codified situations, particularly those linked to the production of public discourse, forms of self-representation, and quotation exercises. Those have led her to start developing long-time research and experimentation on the practice of anonymity and forms of invisibility in art, literature and musical fields.
http://s-a-s.site
ANNE GATHMANN/ANNA-LENA WENZEL/KIRSTIN BURCKHARDT
"Der beste Ort, um sich zu verstecken,
ist der Wachturm"
Drei Begriffe sind für unsere Auseinandersetzungen zentral: Grenze, Körper und Resonanz – um diese Begriffe zu schärfen ist der Wachturm ein prädestinierter Ort. Unser Anliegen ist es, uns während der Residency im Turm zu treffen und unsere Gespräche aufzeichnen. Dafür lassen wir uns bewusst auf das konkrete, politische und zeitgeschichtliche Wirkungsfeld ein und beobachten, wie er unser Körperempfinden (wie fühlt es sich an diesem Ort an?), die Dialoge (verändert sich unsere Haltung dort?) und Themen (welche Assoziation erweckt das Vor-Ort-Sein?) affiziert und beeinflusst. Wir begreifen den Wachturm selbst als einen materialisierten Kontext, der sendet. Im Abgleichen unsere jeweiligen Zugänge und Haltungen möchten wir bewusst damit umgehen, was es heißt, sukzessiv öffentlich zu werden: Was bedeutet es für mich, etwas (zumersten Mal) im persönlichen Austausch zu dritt sagen? Was verändert sich dann bei mir, wenn das Gespräch aufgezeichnet wird? Und wie teile ich schlussendlich die Versuche des Mit-Teilens einer anonymen Hörerschaft mit? Durch diese Fragen wollen wir in der The Watch Residency die fragilen Zonen der Sicht- und Hörbarkeit durchschreiten und sie mit Anderen teilen.
Wir sind drei Künstler*innen, die sich regelmäßig zum Austausch und Arbeitsgespräch treffen. Die Residency möchten wir dafür nutzen, unsere Gespräche als Praxis zu markieren und in ein auditives Format zu übersetzen.Uns zeichnet aus, dass bei uns drei unterschiedliche Persönlichkeiten und künstlerische Ansätze (von Text über Rauminstallation zu Performance) aufeinandertreffen. Dabei suchen wir sowohl Schnittmengen als auch Reibungsflächen.
Kirstin Burckhardt
is an installation artist working with video, drawings, and performances. Critically drawing upon her training in psychology and neuroscience, her work addresses moments of vulnerability, empathy, trauma, and changing perspectives.
k-burckhardt.de
Anne Gathmann
setzt sich medienübergreifend und ortsspezifisch mit der Instabilität von Realitäten auseinander. Ihre Installationen – reduzierte Anordnungen aus Glas-, Holz-, Gips-Objekten, Bildern und Projektionen – reflektieren möglichen Formen von Anwesenheit.
www.annegathmann.com
Anna-Lena Wenzel
ist freiberufliche Autorin, Radiomacherin und Künstlerin. Unter anderem betreibt sie das Online-Stadtmagazin 99% Urban und macht zusammen mit Julia Bonn den Radiosalon für Alltägliches bei reboot.fm
www.alwenzel.de